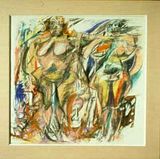 The OrangeMagritte: Oh, Fuck ME!
The Otherh: I said that was going on later, i needed to lie down for a while
OM: That...you...oh...er
The Otherh (laughing):You have to be careful what you say in this house...You say "fuck me runnin'," and people start getting their running shoes on...
Yes, we live quite a life. fucking and running are mostly part of it.