So. Before you tell me what an Evil Corporation you believe starbucks is, consider some things written recently in Reasononline.
The Fair Trade label was born in the Netherlands in 1989 under the brand name Max Havelaar, taken from the title of a 19th-century novel about oppressed Javanese coffee plantation workers. When the company came to the U.S. a decade later, the American branch billed itself TransFair USA. TransFair's stated goal is simple: to ensure that farmers get a decent price for their beans, and to let consumers know it. By cutting out predatory middlemen and selling a clear conscience at a premium, coffee idealists hoped to achieve humanitarian goals by capitalist means.
...
The Fair Trade apparatus is intended to mitigate a system that seemed especially cruel just as the movement was gaining steam. Until 1989 the price of coffee was relatively stable, held in place by an international agreement that imposed both import and export quotas. That year, as the Cold War ended and stability in producing countries was less of a priority in consuming ones, the pact—known as the International Coffee Agreement—dissolved completely. When supply and demand kicked in, new producers from Vietnam to Papua New Guinea were free to try their hand at the coffee game, drastically redrawing the java map. The resulting glut sent prices spiraling downward. By autumn 1992 coffee cost 50 cents a pound—a level, according to Fair Trade marketer Global Exchange, that's comparable to prices in the 1930s.
...

Specialty coffee roasters have always paid above-average prices, but that hasn't stopped activists from launching smear campaigns against high-end retailers who resist the Fair Trade model. In 2000, activist groups including Global Exchange launched an attack on Starbucks that has left the company stained with a reputation for mistreating farmers. Yet given its size, Starbucks likely has done far more than the Fair Trade movement to improve the lot of coffee growers in the 25 countries from which it purchases coffee. Starbucks buys 2.2 percent of the world's coffee production, and its infamous growth fuels demand for high-priced specialty coffees. In 2004 it bought that coffee at an average price of $1.20 a pound, slightly below the $1.26 Fair Trade pays but more than twice the average price for beans on the global commodity market.
Having done the whole barista thing through university, and then again after, and then after that, and once more after that, i can attest to the company itself being decent to the people who work the crap shifts. (4a-12p M-F the whole time i took overloads at UCLA.) i had benefits, options, free coffee, and hell, i got a couplea aprons out of it at one point.
I discovered very quickly how to succeed at barista-ing without really hurting anyone. being the coffee lover that i am (i.e. "oh, does this have an overtone of blueberry? i love that!") i am unafraid to pull the perfect shot, steam the perfect pot of milk, even suggesting to regulars upon occasion that maybe they want an americano today, as we just started brewing a new pot. ("Don't worry about that one, it's on me.") In long, i love serving coffee. i know how to do it, i'm good at it, and i never have to worry that it's going to change. (There's a system to calling a drink, you know, and i.love.systems.)
So, i hate job hunting more than anything, and i haven't done it in forever and then some more on top of that, and i decided at 4.13 this a.m. that i would browse allllllllllll of the jobs, not just the ones i really should be looking for. and starbucks, wouldn't you know, is hosting a job fair in my wee (not really) city this week. Which means of course, i'll be working for starbucks by friday. everyone in the house will hate that (but...law school? but...public policy? but...something that you know you can do!) until they realize i love working for starbucks. and also that i can afford meds. and cigarettes. and food. and gas for the UAV, you see. and the beans are free!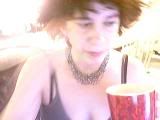 la vie de cafe
(also, not what i look like)