from a reuters story:
Spain's top fashion show kicked off on Monday after causing a storm with its ban on skinny models and one well-known designer said he had to replace all the girls in his catwalk line-up.
...

The Madrid ban set off a storm in the fashion world, which has seen a trend for super-slim "size zero" models.
Britain's culture minister and Milan's mayor have already called for similar rules in London and Milan. The British Fashion Council had to scrap a photocall in London after a barrage of criticism for not following Madrid's lead.
a short montage of mostly male viewpoints from history. granted, there's an art historian in me that could say almost anything i wanted regarding men's views of women, but to keep the point simple, let's just say that some of the most memorable art in the world before the camera/digicam, etc., features women not just of size, but of stature as well. i think that's what i'm getting at with this.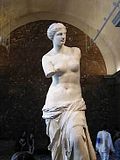 ancient, you know her, she's the venus de milo. venus, remeber, was the goddess of beauty before it was a fucking bendy razor sold to us by anorexics.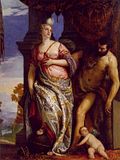 this is an allegory about wisdom and strength. you wil note wisdom is a woman and strength is mostly nude (and shy!) (we jumped to the renaissance, btw)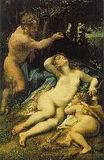 galatea and jupiter & antiope. jupiter & pics always fascinate me, because he had a propensity to propagate through earth-bound women, but again, though nude, (it's a challenge for an artist to do the nude form, i read,) neither of these females are altogether skinny or the "old" (see revlon) perfect.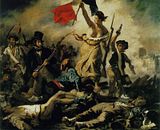 liberty, anyone? liberty is not only a solid woman, she's the only one well-lit (probably because of the tricolour).
the prerafael-ites, chiefly rosetti. all of rosetti's women seem to look alike, and rather little like rafael's women. (like how leonardo's women always look like leonardo, or that michelangelo clearly never looked seriously at a woman (obviously because he used dissection as a study tool and dissecting a dead woman was a weeee bit verboten at the time.) ) but she doesn't look pasty, over-thin, over porcelain, etc.
i love how toulouse lautrec paints women. and of course that he paints them all over each other, but that's just me.